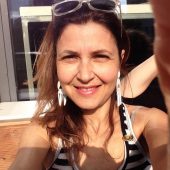 Anat Klein
Reut is extremely intelligent emotionally and intellectually. I feel like I am finally getting a chance to connect to my therapist and through it to myself.
Her method is really working for me. And she is very humble about her talent as a therapist. She is a natural. The real deal. After years of changing therapists and then giving up on therapy all together, I was lucky to find Reut.
Such a different experience and
So much love to the profession.
I am thrilled to recommend Reut to anyone who feels confused about the path he needs to take moving forward with their lives.