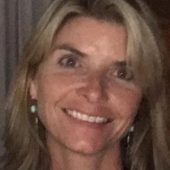 Jennifer Todd Atlas
 I wish to communicate what a life-changing process this has been for me.
I have done talk therapy multiple times throughout my life. I am pretty self-aware, so talking through it always helps on the surface, but the deep-rooted problems persisted and I didn't know how to move past them.  
Before starting my work with Reut I was in a really bad place. It was the beginning of the coronavirus quarantine, I was trying to homeschool my kids and deal with my own fears. I was very irritable, easily triggered, and on the verge of tears constantly. I just couldn't lift myself up to be in a positive place for my family no matter what I tried. I felt helpless, hopeless, and worthless.
After my first session with Reut I felt a shift. Not a small shift, but a huge life-changing shift. Like the sun came out again. Since starting my mandala work I have become a completely different person. The insecurities and negative self-talk have literally vaporized, and the power that I used to have as a strong woman has returned. I am able to communicate from a place of confidence and worthiness and not from that of an insecure child. 
I truly can't recommend Reut enough. She is compassionate and brilliant in her ability to "feel" what I'm going through. She combines many years of study and training with her gift of connecting to me on a subconscious level. I am astounded by the level of healing and change that I have experienced in just over a month.  I highly, highly recommend Reut if you are looking to free yourself from deep-rooted pain, no matter how old or how deep it is in your subconscious.